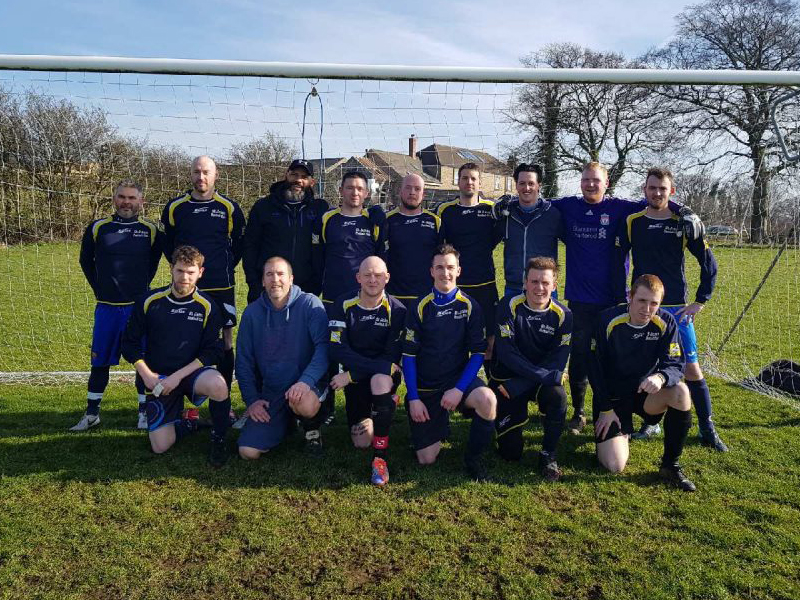 After three seasons of competing in the Sportsreach Champions Cup Saint Johns FC, managed by Paul Pountain and captained by Craig Richardson, have reached the final. In their first season they lost in the first round to Lancaster and then in the second season they lost to Lancaster again, this time in the semi-final. But this season Pountain's team have come back more determined than ever to reach the showpiece event at the end of the season and now look to win their first silverware in an 11-a-side competition. It has been a gruelling schedule of games and the below is a review of the results that have got Saint John's through to the final at the Brian Addison Stadium, Squires Gate on Thursday 15th March 2018.
Round One – first leg – Wray (a), Saturday 11th November 2017, Burton-in Lonsdale (Lost 1-4)
Saint John's FC started with a tricky looking tie against the league leaders in the Sportsreach League who were unbeaten so far. This will obviously also be their opponents in the final but this was not known at this time. Pountain had a weakened squad as there were a number of key players unavailable for this first leg. Left back Ryan Robinson had managed to round up four new faces for the team to ensure we had enough players for the game. Tom Donaghey, our vicar, started the game and gave a good account of himself at right back. The first half ended 0-3, with two goals from George Whittaker and one from Martin Huddleston giving Saint Johns a mountain to climb. There was also an injury to Ben Whitaker which had weakened the defensive lineup. In the second half Saint Johns, to their credit, took the game to their opponents and Micky Mensah grabbed the team a goal back after he stabbed home a shot in the area to give the team hope in the 65 minute. Whilst pushing for a second goal though, unfortunately Wray FC scored a breakaway goal through William Preece which left the game at 1-4 leading into the second leg.
Teams:
Saint Johns: Halliwell; Donaghey, Whitaker, Lawson; Robinson; Din, Reynolds, Richardson(c), Addison, Mensah, Pountain. Subs: Schofield, Bassett, Ollerenshaw, Barnes (all used).
Wray: Hutchinson; Gorst, Wallbank, Dawson, Preece; Whittaker, Ellershaw(c), Harrison, Atkinson, Talbot; Huddleston. Subs: Woodhouse, Lawson, France (all used).
Round One – second leg – Wray (h), Saturday 16th December 2018, Hyndburn 3G (Won 4-2) 5-6 agg
Pountain had a stronger squad to choose from in this second leg and the team knew they would have to start well in order to try and get back into the tie. Saint Johns FC started at a blistering pace and had a number of chances before Pountain managed to score 2 goals in the space of 3 minutes, the first arriving on 35 minutes and the second on 38 minutes. Both were scrappy close range finishes but were welcome nonetheless. 2-0 at half time; 3-4 on aggregate. Unfortunately Graham Emerson scored for Wray early in the second half to make it 2-1. Saint Johns continued to press forward though and Liam Reynolds brought them back in the game with a terrific long range shot from the edge of the box which gave the keeper no chance. Saint Johns FC went searching for the fourth which would take the game to extra time but George Ibbotson scored to take the tie to 3-2 and finish any chance of a win. Pountain completed his hatrick with seconds to go, when put through one-on-one with the keeper however Wray won the tie 6-5 overall. The good news was though that Saint Johns FC had done enough to reach the quarter final as they had finished as the second best loser so fortunately moved into the quarter final.
Teams:
Saint Johns: Halliwell, Mulhall, Baron, Lawson Robinson; Schofield, Richardson(c), Reynolds, Di Francesco; Shaw, Pountain. Subs: Mensah, Simmonds (both used), Donaghey.
Wray: Hutchinson; Park, Taplin, Stewart, Preece; Swinbank, Harrison, Ellershaw(c), Atkinson, Emerson; Ibbetson. Sub: Briggs (used).
Quarter Final – first leg – Loko (a), Saturday 13th January 2018, Carnforth High School (Won 6-3)
Saint Johns FC went into this with a near full strength squad and had a strong belief that they could get a positive result to take back to Hyndburn. An early goal on 8 minutes from Craig Richardson after great movement between the front four of Addison, Riley, Pountain and Mensah meant that the game started well. Unfortunately Loko equalised on 36 minutes when a well struck direct free-kick levelled the scores up. Jake Schofield restored the lead though with an incredible long-range strike which hit the bar and bounced down over the line. An absolute cracker! 2-1 at half-time. The second half couldn't have started any better as Richardson continued his purple patch in front of goal with two further strikes to complete his hatrick, one from the penalty spot after Dave Shaw had been brought down. Schofield and Pountain also added second half goals and though Loko did pull two goals back to make it 6-3 at full-time, it was a job well done going into the second leg. The only downside was a nasty looking eye injury for Mulhall for a challenge which should have been a straight red but the opposition player avoided even a booking.
Team: Halliwell; Haworth, Baron, Lawson, Mulhall; Richardson(c), Reynolds; Riley, Addison, Pountain; Mensah. Subs: Schofield, Robinson, Shaw, Carrick (all used).
Quarter Final – second leg – Loko (h), Saturday 27th January 2018, Hyndburn 3G (Won 2-1) 8-4 agg
Pountain again had good strength in depth for this home game though was missing the influential Ryan Lawson for the first time at centre back. This meant Richardson partnered Gary Baron at the back. Ryan Robinson came into the team for the unavailable Mulhall after a superb performance from the bench in the previous game. Whilst Saint John's, who had won 3 out of 3 at home in this competition, started well and carved open a few opportunities early in the game, most noticeably when Mensah hit the post, it was Loko who looked like they had found a way back into the tie. Player manager Andy Towers scored on the 17th minute with an easy header when left unmarked in the box. Half-time and 6-4 up but there were still 45 minutes to make sure the team progressed. Fortunately it was Saint Johns who scored the next goal when Pountain crossed the ball from the right and found substitute Eddie Riley, who is proving to be an impressive new addition, who finished well on 53 minutes. The tie was finished once Jake Schofield scored a great free-kick on 81 minutes to ensure progression to their second successive semi-final. With Great Eccleston and Lancaster both being eliminated at this stage all in the camp were hoping for a favourable draw in the semi-final.
Team: Halliwell, Haworth, Baron, Richardson(c), Robinson; Schofield, Reynolds; Brendon, Addison, Pountain; Mensah. Subs: Riley, Stinchon (all used).
Semi-final – first leg – Quernmore (h), Saturday 10th February 2018, Hyndburn 3G (Won 9-3)
The first leg of the semi-final could not really have gone much better for Saint Johns. Sticking with the 4-2-3-1 formation which had served them so well in the quarter-final the team caused Quernmore all sorts of problems. The team were clearly highly motivated and determined not to capitulate like they did in last season's semi-final. Goals from Pountain (4 and 40 mins), Jake Schofield (31 mins) and Rob Addison (35 mins) meant that the team had a commanding 4-1 lead at half-time. This was further added to in the second half by the uncontainable Schofield who scored a second half hatrick, a great free-kick was scored by Richardson and a header from Pountain completed a 'perfect hatrick – left foot, right foot and header' and meant that Saint Johns held a six goal lead – 9-3 going into the second leg.
Team: Halliwell, Haworth, Baron, Lawson, Mulhall; Richardson(c), Reynolds; Riley, Addison, Schofield; Pountain. Subs: Mensah, Robinson, Whitaker (all used).
Semi-final – second leg – Quernmore (a), Saturday 24th February 2018, Scorton (Drew 1-1) 10-4 agg
Pountain was able to select the same starting lineup in the second leg of the semi-final and whilst it was a much closer game this time, they saw the game through professionally. There was a slight scare when Quernmore went 1-0 up with their first attack but all nerves were calmed when Eddie Riley scored a magnificent equaliser. Controlling the the ball down the left wing after a good pass from Paul Haworth he chipped the ball up and over two defenders before lashing the ball into the net past the despairing keeper on the 32nd minute. The team were indebted to a couple of good stops by Halliwell in the second half but could also have won the game when the fearsome front two of Micky Mensah and Dave Shaw combined with the latter put the ball just wide of the far post.
Team: Halliwell, Haworth, Baron, Lawson, Mulhall; Richardson(c), Reynolds; Riley, Addison, Schofield; Pountain. Subs: Mensah, Robinson, Di Francesco, Shaw (all used).
So Saint Johns FC march into the final on Thursday 15th March. The game will kick-off at 7.45pm at the Brian Addison Stadium, FY45DS. Please come and support the team who have put in a lot of effort over the past four months to get to the final. There will be refreshments available at the stadium. The team looks forward to your support. It would be great for the support to outnumber Wray's support and really give the lads the backing of Saint John's Church.