Welcome to St John's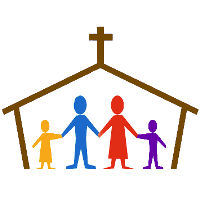 Welcome to Baxenden St John. Please feel free to join us at one of our Sunday services (weekly 8:00am and 10:15am)
We welcome ALL of ANY age. We welcome those with a lot of church background, those with some background and especially and those with none!
Our prayer and desire is that, whoever you are and wherever you are up to in life, we can help you meet with the Living & Loving God. We hope our services will help you pray to him, praise him, share with him, listen to him and seek to live for Him
During the week we meet in small group gatherings of around 10 people. Such groups usually take place in the home of one of the local church members, for teaching, worship, prayer and friendship …and there's always a bit of food
If you have questions about Jesus, Christianity, or are a new Christian, we would love to help you. If you would like to get more involved, please contact us
About Us

We are a vibrant Anglican church on the outskirts of Accrington, with a hunger to see the Kingdom of God grow in our area (Matt 3:2) and know the grace of God in our lives and church (Rom 12:6-8)
May be a few words of description might help you get a flavour of what kind of church we are like. We are a local community minded, friendly church for all ages. That means we value young and old, we don't seek to serve ourselves but the local community that God has placed us in and then beyond
In this church family everyone is important and all have a part to play. We want to help ourselves and those around us, to discover more of the goodness of serving God with all of our lives. We do this as a response to the love God has first shown us
We believe in God and we know God's immense love shown in Jesus – especially his death and resurrection. We're a church that takes God's word the Bible seriously, and know and rest in the reality and closeness of the Holy Spirit
We believe we need to keep 'fresh' and keep growing in our Christian faith. So we believe in prayer, in deepening 'fellowship' – spurring each other on through meeting together in large and small gatherings. And we believe that in order to grow we need to actively serve God, our church family and this community. God has given each of us gifts and abilities that we can use to do this in a whole variety of ways
We value and treasure the heritage of the past and thank God for all his creativity in the present. So our services will reflect a mix of the 'old' and the 'new', of traditional and contemporary forms of worship. God did not make us all the same so it's no surprise that we all connect with God in different ways. But together God calls us to follow Jesus and love each other – in our variety and our differences
We are not a perfect church and we have not got it all sewn up – and probably never will! But we seek to be a real authentic expression of a community of faith in Jesus – and you're very welcome to join us. What are you waiting for?
St John's and Young People

All people of any age are important at St John's. And we delight in the privilege of being able to help young people discover more of the God who made them and loves them far more than we can. We have children's activities on a Sunday morning during our 10:15am service, for their own special time of worship and teaching. The first Sunday of the month is an All Age Service and also during the 6 week summer school holidays
Our leaders are all willing volunteers, who hold all the necessary DBS clearances in child care, and we seek to train and support them as they carry out this vital service of helping young people explore faith in God